The epitome of quality. A Stainless Steel Grill. You stop in your local box store and pick one up. And two years later you need another one.
But stainless was supposed to last a lifetime – wasn't it? That's what you've read on the internet, doing your research for your next barbeque grill. Stainless steel gas grills are the best to buy. If you want the best, be sure to buy stainless. Stainless barbeque grills will last forever! And so on, and so on.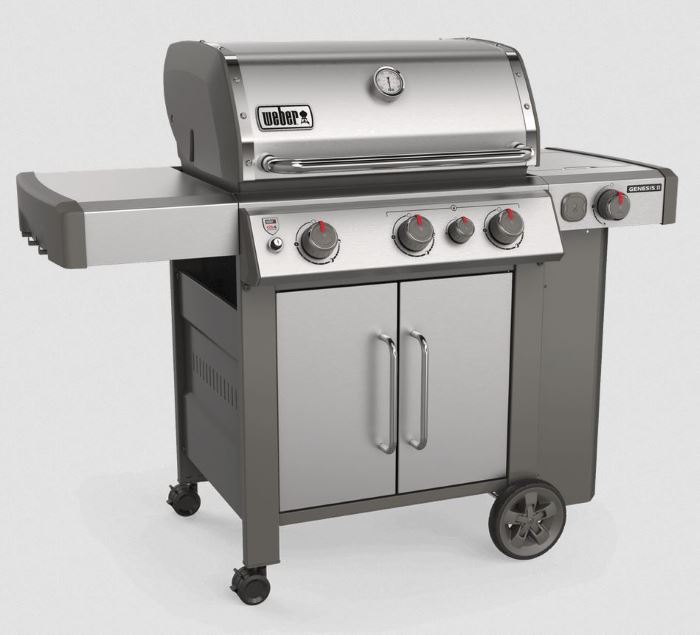 You've been there before – you know what I'm talking about. You've been taken to the cleaners. And it's all because stainless steel gas grills are not created equal. There are vast differences in construction and quality between the various gas grill manufacturers. So how do you know what to look for? How do you protect yourself the next time you go looking at gas grills? Below are 7 things to look for next time you shop for a new gas grill.
Know that stainless steel CAN rust. Your whole life you've been told stainless steel won't rust. Not so. 304 cold rolled stainless steel won't rust. But many other grades of stainless have a higher percentage of iron – and will rust. 430 grade stainless steel is commonly used in lower end gas grills. And 430 stainless steel will rust in a very short time. Know what grade stainless you're buying when you go for your next grill. A quick trick is to see if the grill will attract a magnet. 304 cold rolled stainless steel will not – due to its low iron content.
Check to see if the grill you're looking at is merely clad with the 304 stainless steel – or is 304 stainless steel through and through. Gas grills clad with 304 stainless steel will repel a magnet – but will not hold up to the higher temperatures required for perfect grilling. Clad grill surfaces will warp and buckle in very short order, exposing the base metal to the elements, reducing the life of your grill.
Once you know you're looking at a soild 304 cold rolled stainless steel grill, you need to check the gauge used in construction. The durability of stainless steel depends on the gauge or thickness to which the steel was rolled. Don't buy a gas grill if any part of it falls below 16 gauge. This is the minimum gauge required to prevent heat warping of your grill.
If the grill passes the gauge test, check its construction. Are the seams bolted together, spot welded or fully welded? Only fully welded seams last a lifetime. Spot welded seams will split at higher heats – leaving you with a grill that is literally falling apart. And bolted seams will rust. Have you ever seen rusted seams? Have you ever tried to clean rust off of metal? Then you know what I mean. And once rusting begins, the grill will rapidly deteriorate. Accept only fully welded seams in the construction of your gas grill.
Now, check the burners. They'll be constructed from sheet metal, tubes or cast stainless steel. Sheet metal and tubes are prone to burn-through and have a very short lifetime. They are thin, easily damaged and prone to pitting. The best burners are made of cast stainless steel, which prevents burn-through and will give much, much longer service.
Then check the construction of the grill grates. They also should be cast stainless steel. Good grates are at least 1/4″ thick. The best grates are a full 3/8″ thick. The thickness of the grates not only determines how long they will last, it's also important in determining the eveness of heat distribution. And even heat distribution is key in grilling a great piece of meat.
Lastly, calculate the heat output. This isn't done by looking at the manufacturer's BTU rating. BTU rating only has meaning when compared to the square inches of cooking surface. Excellent gas grills have 100 BTUs per square inch of cooking surface. That means that 500 square inches of cooking surface should have a BTU rating of 50,000 or more. A grill rated at 100 BTUs per square inch will produce the beautiful grill marks you love – as well as cook your meats evenly to the desired degree of wellness. Perfection.
Armed with this simple knowledge, you're sure to find a great gas grill the next time you go shopping. A grill that will make you proud and last a lifetime in the process. Don't settle for a box store grill again. Instead of buying a new box store gas grill every 2-3 years, buy a great gas grill – one that's really meant to last your lifetime. The cost-per-year-of-use will be lower when you invest in a great stainless steel gas grill up front – and you'll have equipment you can truly be proud of , equipment that makes you Master of the Grill. In the end, quality really does matter.