When looking for the best gas grill under 300 dollars, you should also consider some other aspects of choosing a good bbq grill that will last and eventually save you the extra money in the long run.
There many models being sold in the market for just under $50, but in reality most might not perform up to their promise and will end up costing you much more then if you were to invest on decent quality barbeque grills.
So before you buy, review some of the basic criteria below for choosing a good budget gas grill.
Start by reading the Consumer Guide to avoid wasting money on low quality products.
Or go straight to the list of 7 Inexpensive Grills ranked by price.
How to Choose Good Cheap Gas Grill
First, and foremost, how much should a cheap gas bbq grill cost? Is it under $500, or under $50?
From research, we found that for an average consumer budget level, anything close to $500 is not considered to be cheap. But if you are looking for gas bbq grills under $50 and hope you get good value for money, then you might come to realize that most of these models are often made of low quality materials, with poor construction, and lack cooking powers for most barbeque needs. Which in return, won't make them truly good purchases, since these grills will likely end up unused in your garage storage.
So our first criteria for cheap gas grills is that they must be under $300 – a good price point for most bbq lovers while still has plenty of room for quality products.
Second, some manufacturers and suppliers cut up accessories and essential grill parts to reduce their prices lower than the rest of the competition. So make sure when you compare prices, you also check what is included with the purchase to nail out the true winner.
Third, what is you cooking preference? Are you buying cheap gas rills because you want a portable cooker that won't require much maintenance and can just be chucked away after some time? Or are you looking for cheap models because you don't make barbecues very often, but still desire decent cooking power? Perhaps you're bargain hunter and just want a basic bbq gas grill unit without any fancy "whistles and bells"? These and other questions are good to ask yourself as they will tell you exactly what to buy without wasting your money on unnecessary features.
Below are top 7 cheap gas grills, listed in the order of the cheapest, to the one which is just over $200, but provides more functionally and better overall grilling performance. When we created this list, we sorted them by price, user ratings and sales rank from Amazon.com website, so you can be sure there is no bad or low quality gas bbq grills in our review.
Coleman Roadtrip Party Grill
This inexpensive model from Coleman only weights 4 pounds and also has foldable legs which makes it the perfect choice for tailgate parties and frequent outdoor camping.
Apart from grilling barbecue, you can use it as a water boiler or a griddle to prepare morning breakfast toasts, bacon or eggs.
Designed with ease of transportation in mind, this cheap gas bbq unit lacks some cooking power and the heat is more concentrated at the center than near edges of its cooking surface.
Weber Go Anywhere Portable Propane Gas Grill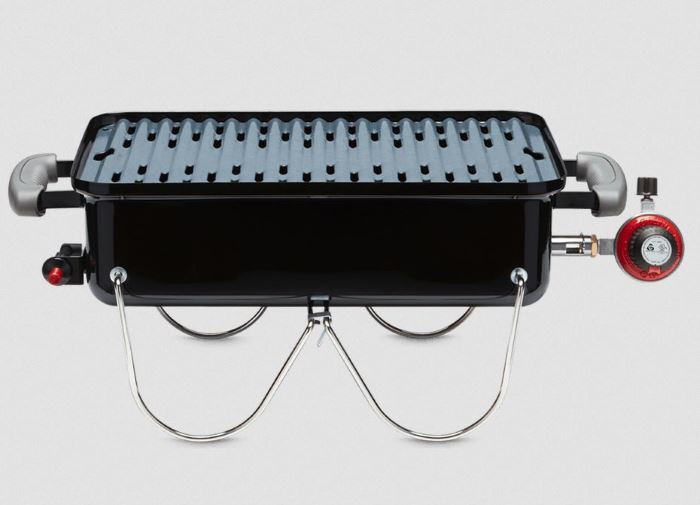 Famous for quality outdoor gas grills and superb customer support, Weber still has something to offer at this budget level with its Go-Anywhere gas grill.
This portable bbq grill is more solidly built with stainless steel material and big enough to cook for 2-4 people.
Consumer likes this unit because of its its good size for most tailgating occasions and solid construction that can grill even under windy weather condition. It is also equipped with flavorizer bars to replace the need of lava rocks.
Overall – Weber Go Anywhere is a great bargain for the range of cheap gas grills under $100.
Char-Broil Patio Caddie Vertical Gas Grill
This is a full-size gas grill with ergonomic vertical design that is perfect for condo or apartment set ups, where space is limited.
It sells for under $140 at Amazon.com, but if you find no stock is available, a better alternative is their new range of Char-Broil Patio Caddie Electric Grill for clean grilling that can be used indoor.
For a lower burning power of just 10,000 BTU, Char-broil Patio Caddie has proven to be very effective at providing even cooking temperature and enough to grill for a family size of four.
It has wheels down the bottom for easy transportation as well. Click here to read our detailed review of Char-broil Patio Caddie.
Weber Q-1000 Portable BBQ Grill
Weber Q-1000 is a very economical and efficient portable propane gas grill. With just 8,500 BTUs of burning power, you can still grill 2-4 servings at a time. The thick ceramic grate also make it hot enough to sear smalls size steak barbecues.
Other strengthe of Weber's Q model lies in its even heat distribution and durable long lasting construction.
Just like many good quality cheap gas grills, Weber Q1000 comes with many useful features. Check our full review of Weber Q Grill series for more details.
Cuisinart CGG-200 All-Foods Tabletop Gas Grill
This 12,000 BTUs per-hour burner grill is ideal for smaller backyards and patios.
It is also portable with carry handle and considerably light for its size. Cuisinart CGG-200 is equipped with lots of useful features such as temperature gauge, push button ignition and Cuisinart's special modular grill surface system, that accommodates variety of interchangeable panels for frequently grilled foods.
Considering the solid build with folding stainless steel shelves and all the features, it is one of the best value cheap gas grills for under $200.
Char Broil 06401206 Grill-2-Go Advantage
Char Broil Grill 2 Go is a collapsible bbq gas grill with wheels. It works well on both patio, back deck, or at the beach, campsite, and tailgating parties.
With two stainless steel burners Grill-2-Go provides open-flame grilling at 16,000 BTU of heating power and good 308 square inches of cooking surface.
This is an inexpensive tabletop grill that has Teflon coated non-stick griddle along with other essential features of basic outdoor gas grills.
Coleman 9941-768 Road Trip Grill
Another full-size grill with collapsible legs for countertops or travel on the road. This cheap gas grill is ideal if you need a bbq cooker that can be folded to compact size and put into the back of your car. Great for toting to the beach or into small driveway block party.
For such a low price, this Coleman Roadtrip propane model offers dual gas burner with total of 20,000 BTUs – one of the best power ratings for gas grills in the $200 range, even Weber can't beat it on this model. What's more wonderful is that you can control each burner individually for more versatile barbeque cooking.